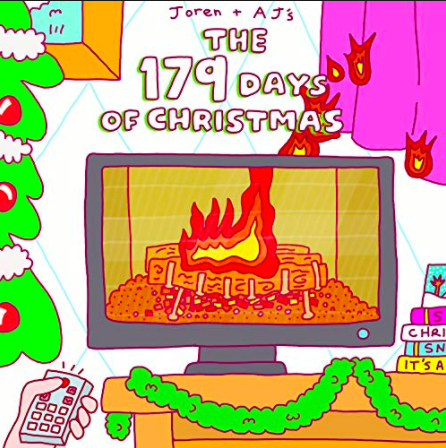 During the recent Christmas season, Toronto animator Joren Cull and his cousin, musician AJ Ing, released "The 179 Days of Christmas," a nearly nine-hour-long Christmas song that takes "The 12 Days of Christmas" far, far, far beyond its logical conclusion. Understandably, the song got attention. The AV Club called it "the worst Christmas song," but it's not. It's among the more challenging due to its length and deliberately sing-song presentation, but as I insist in The 12 Songs Manifesto, the worst Christmas song is the forgettable Christmas song, and this isn't that.
I talked to Joren and AJ about the song, including its origins and how they did it. One commenter on Reddit speculated that they recorded the last day, then cut and pasted the file endlessly to create the song. According to Cull, they didn't. He talked about the song's absurd length, why it's that long, and how it plays into their sense of humor. He sees the song as less of an FU to Christmas music and as something more playful, in a similar spirit as an Andy Kaufman bit.
As a part of my conversation with Cull, we detoured understandably into the world of novelty Christmas songs (In the Manifesto, I argue that all Christmas songs are novelty songs), where he turns me on to the Pac-Man Christmas album and I turn him on to "KITT Saves Christmas," a Knight Rider Christmas song with a better electro-funk groove than I remembered.
Four notes and three apologies:
1) How polite are Cull and Ing? I called their song "The 178 Days of Christmas" while talking to them and they never corrected me. I deserved at least a casual correction—179—but no. Sorry guys.
2) I had tech issues and had to record my interview with Joren on my phone. As a result, the audio is rattier than usual. Again, sorry. Thankfully, I had the glitch solved by the time I talked to AJ.
3) This week's show is a day late for the second time. This time, I realized when it came time to edit the episode that wrangling a nine-hour mp3 on a MacBook Air that is already feeling stressed and stuffed is akin to piloting a tanker, and it didn't move with anywhere near the speed I needed it to in order to be up on our usual Wednesday drop date. Note to self: Think about the file size when wrangling nine-hour songs in the future.
4) "The 12 Songs of Christmas" will move to every other week starting with the next episode. Twelfth Night has passed, so the 12 days of Christmas are really behind us. I've always envisioned this podcast as a year-around conversation and since I never thought of it as a soundtrack or appendix to the holiday season, I don't see a reason to stop. I know that there are others out there like me who like Christmas music and aren't done with it when the decorations are stowed in the attic or shed. There are also others out there who want to hear interesting conversations about how and why music is made, and how it fits into a number of contexts, no matter the song's subject matter.
Still, booking and recording and editing and uploading a podcast while wrangling the accompanying website and social media while also working on MySpiltMilk.com and teaching a class and having a family life has proven to be enough of a task that something has to give. Rather than half-ass all of them, I'd rather find a schedule that allows me to do all of the projects to my standards, which are becoming more demanding as my editing and recording chops improve.