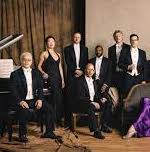 I wanted to interview Thomas Lauderdale for 12 Songs since I interviewed him in 2016 to preview a summertime show in New Orleans and we detoured into 20 minutes of unusable conversation on Christmas music. The pianist and bandleader for contemporary lounge band Pink Martini loves Christmas music, and when I interviewed him for the show last fall, he turned me on to a beautifully weightless version of "O Come All Ye Faithful" by Julie Andrews.
Unfortunately, that interview was lost to the inevitable technical difficulties that accompany working new gear into your recording set-up. Pink Martini tours the world and stays so busy that it has taken until now to get a second chance at an interview on Christmas for the podcast. This is not the same conversation we had the first time. We talked at length about "White Christmas," which appears in two different version on Pink Martini's Joy to the World just as we did the first time, but we also talked about the role of Starbucks in the album's origin. We talked about the Christmas song he wished that he hadn't recorded, and his inability to get a handle on Mariah Carey's "All I Want for Christmas is You."
Before the conversation turned to Christmas music, we talked about Pink Martini's early days as "the house band for progressive causes" and its debut album, Sympathetique. I've edited most of that from this podcast to keep it focused on Christmas music, but you can read that part of the interview at MySpiltMilk.com.