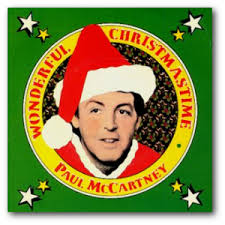 Paul McCartney's "Wonderful Christmastime" is one of America's least-loved Christmas songs if you read the annual lists of worst Christmas songs, but it's also one of the most popular, so much so that Forbes reported in 2010 that it likely earned him between $400,000 and $600,000 annually. A sense of economic injustice likely fuels the outrage that writer Chris Chase expressed toward it and John Lennon and Yoko Ono's "Happy Xmas (War is Over)" in 2010:
Them putting out this dreck is like if Irvin Berlin wrote The Thong Song. It's like if Van Gogh had done macaroni art. I don't care if the latest American Idol runner-up warbles his way through O, Holy Night, just don't let me hear the great Paul McCartney butcher a song in the holiday season.
Andrew Winistorfer defended the song for Vice.com in 2012 in a piece that often reads like an overcorrection—he claims the song is "the original--and by far best--Chillwave song"—and Annie Zaleski wrote at Salon.com in 2016 that "'Wonderful Christmastime' represents one of McCartney's biggest post-Beatles pivot points — a low-pressure song where he reasserted his independence and started a metamorphosis that would linger for years. Sometimes, the most unexpected (and most polarizing) gestures end up being the most enduring."
The song has proven to be very coverable, far more so than the biggest contemporary Christmas song, Mariah Carey's "All I Want for Christmas is You," and on this episode I talk to two artists who have recorded versions of the song. Electro boogie duo Tuxedo cut an on-brand version in 2014, and New Orleans rock band The Breton Sound cut a pop-punk version a year later. For this episode, Alex Rawls talked to Tuxedo's Jake One and The Breton Sound's Jonathan Pretus about the song, versions of it, and their other Christmas songs.
Tuxedo recently released its third album, Tuxedo III.