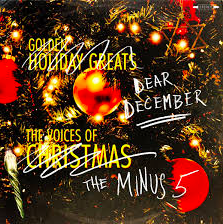 In this encore presentation of an episode from last spring, Alex Rawls talks to Scott McCaughey of The Minus 5 about the band's Dear December and the unusual circumstances surrounding its release. McCaughey finished the album, then shortly before its release in the fall of 2017, he suffered a stroke. That ended any promotion for the album as well as any performing for McCaughey, who started in Seattle's Young Fresh Fellows, and also played in R.E.M.'s touring band and The Baseball Project with Peter Buck and Steve Wynn.
In our conversation, he talks about the road the recovery and how not being able to play those songs for a while affected his relationship to the album. He also talks about how the song choices for the album and its release were affected by The Monkees' Christmas Party album, which includes some of his songs.
After that, Alex reviews new Christmas releases from Rob Halford, Ne-Yo, Keb' Mo', John Legend, and Diana Ross.
If you haven't yet subscribed to 12 Songs, this is a good time to do so because the season ends strong. Go to Apple Podcasts, Google Play, Stitcher and Spotify and subscribe.