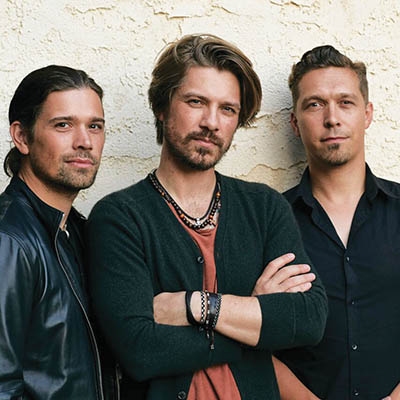 I hadn't planned on this season circling in on two or three common features, but this season has included a number of Nashville acts, a number of discussions of A Charlie Brown Christmas, and two acts that made their marks on MTV in the 1990s. Two weeks ago, 12 Songs featured Matthew Nelson of Nelson, and this week I talk to Isaac Hanson of Hanson--three brothers who were introduced to the world as teenagers in 1997 with the release of "MMMBop" and the four-times platinum album it came from, Middle of Nowhere. 
Isaac has done enough interviews since then to know how to hit his marks, but he's also pretty candid about Hanson's place in the world in the late 1990s, and although releasing the Christmas album Snowed In as the follow-up to Middle of Nowhere was not the most intuitive choice, it helped the band do a few things that they thought were valuable. 
We talk about that and the challenge of interpreting Christmas songs on Snowed In and 2017's Finally It's Christmas, an album that also makes clear how hard-wired their pop sensibilities are. We also talk about rewriting Paul McCartney, which they did for their cover of "Wonderful Christmastime"--another song that got a lot of talk this season--and the thought processes behind it. 
Hanson recently started their first holiday music tour, which will continue until December 21 when they play The Paramount in Huntington, NY. If you're like me and in New Orleans, they'll play The Fillmore on December 10. Go to Hanson.net for tour dates and tickets.
In other 12 Songs news, I recently said that I would post a Christmas playlist of my own. Here it is, 2 1/2 hours that I hope will find as much fun as I do. 
On December 10 at 10 p.m. Central, I will appear on WWOZ with my host and friend David Kunian to play and talk about Christmas music. If you're in New Orleans, you can check the show out that night; if you're out of town, it will be streaming live on WWOZ.org.
And finally, for the rest of the Christmas season, we'll go to two shows a week, with the last one coming on Christmas Eve. If you haven't yet subscribed to 12 Songs, this is a good time to do so because the season ends strong. Go to Apple Podcasts, Google Play, Stitcher and Spotify and subscribe.